Leeman Farm offers services to meet all your breeding needs. Services include reproductive management, embryo transfer services, as well as foal out services for your mare. We also offer shipped cooled and frozen semen with fresh semen available for onsite mares.
Mares coming for foal out enjoy a spacious foaling stall monitored via camera and we also use the Foal Alert system. Turnout is provided on an individual basis for customer horses in fenced paddocks. Mare care is $18.00 a day for dry mares and $20.00 a day for wet mares.
Dr. Curt Honecker of Valley View Animal Hospital in Dover, Ohio is the attending vet at Leeman Farm and visits the farm daily during Breeding Season working closely with Breeding Manager, Randy Yoder.
​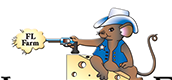 Please direct all breeding inquiries to:
Randy Yoder at Leeman Farm • Phone: 330-837-8501 • Fax: 330-837-8598